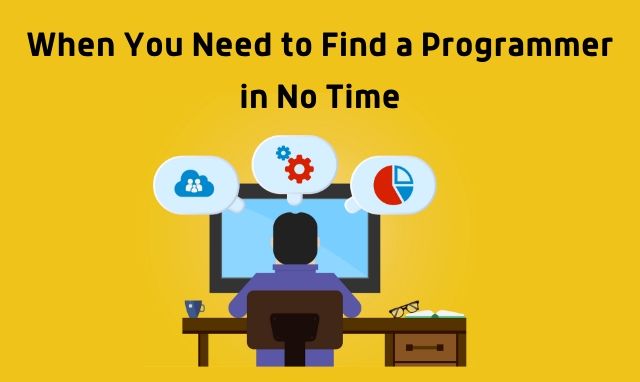 From time to time due to different kinds of issues companies need to onboard a particular IT specialist as fast as possible.
No matter what type of project you have: website development, mobile application development, IoT project – there's always a possibility you would need new or more people to handle the process.
Maybe your current developer turned out to be not really qualified for the job, maybe you need an additional dev due to a huge amount of work – you end up facing the same problem.
For starters, let's figure out when this can happen and how bad it can look.
What's with the Rush?
How bad can it be? Well, pretty bad! Just imagine your lead developer has just told you he is leaving due to a better job opening and more interesting project at another company.
It's not even about money so there's not really much you can do. Meanwhile, your project is far from being finished and you need to find the same kind of specialist before your current dev hasn't actually left.
Otherwise, your project would be on hold because there's no one who can do the major decisions. How much would it take to post a job opening and do the screening?
What if there's no one in your area who is qualified for this? You still have to pay all the team members though! Sounds pretty sad, doesn't it?
It's not always that bad. Your project might turn out to be a little more complicated or comprehensive that you thought it was. Thus, you need extra hands to meet your deadlines.
In this case, the worst that can happen is not meeting the deadlines and that's less bad for sure than not finishing the project at all.
In the middle of the project development, you may also find out you don't have a particular developer to write an additional part of code or you need to extend your team with additional, other types of programmers.
In this case, you would also have to put the project 'on hold' until you have the right tech talent. Everything depends on how fast you can fill the spot and that's not a very pleasant situation.
Obviously, there are many reasons for the rush!
Even though it may look like it's impossible to fill the gap with the missing part real nice and fast, there's always a way out! Let's find out how to get off with a whole skin and do it in style.
Proper Tech Talent Acquisition
Most well-established companies have their own recruitment team. If this is the case, those recruiters can tell what kind of pool they already have and how hard, approximately, it would be to find a particular developer.
Even with the best tech recruiters, it would take 1-2 weeks, in the best-case scenario, to onboard the right candidate. Sometimes that's more than good enough but the chances of this happening are quite small.
More often, it takes months to find someone who is the right fit or you would not be able to find one at all.
In most countries, there are not enough experienced developers so it's a tricky job to get one taking into account all the competition from companies with big names.
Remote Work Growing Popularity
If the classic recruitment process is not something your company is good at, you can always turn to alternatives.
Almost 60% of hiring managers use remote employees on a contract basis or hire freelancers and their number is expected to grow significantly in the next decade – source.
It turns out that the main reason for this is the lack of local tech talent (not enough skilled specialists).
Basically, the main problem is that no one wants to hire an entry-level programmer who just graduated and has no real experience in the field. Thus, companies start looking for them abroad.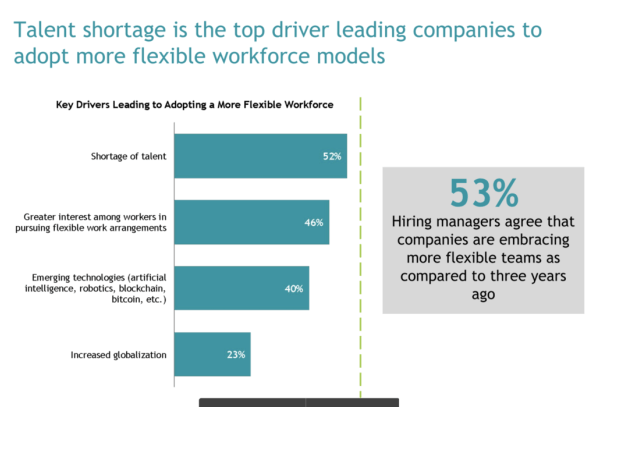 These days people can work together as a team even if they are located in different parts of the world.
Modern technology, professional tools, and software make it much more efficient. No wonder the number of companies that adopt a more flexible workforce is growing.
The benefits of building a disrupted team make this solution very appealing.
When some spend months just to build a team, you can have your project done by using remote workforce. If you do it properly, you would also save your budget.
IT Staffing Services
Everybody is aware of how popular and efficient remote work has become. Still, not many know that it's not always freelance portals.
To actually get a professional developer onboard in no time, you should use consider working with a subcontractor.
This way, you can choose an outstaffing company that would find a programmer you require and hire one for you.
In most cases, they already have a pool of available developers from which you can choose.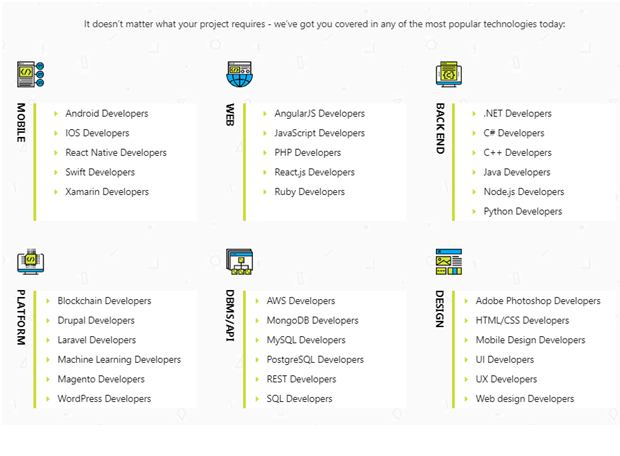 The onboarding process is also simplified. You don't have to worry about it at all because your subcontractor is doing everything for you.
Taking this into account, you also save on taxes and operational costs.
This is the safest and fastest way to get a highly-qualified programmer to work on your project. Take a look at the advantages of this model:
Cost-effective
Time-saving
Access to the global tech talent pool
No need for micromanagement
Full control over your project
Constant communication
Contract-based agreement
Just think of this before looking for a freelancer or outsourcing company. They would not give you such control combined with flexibility.
This model has actually proven its efficiency and has worked out well not only for small and medium-sized companies but also for big enterprises.
So, if you don't have the time or resources to the recruitment yourself, you don't want to overpay for an experienced developer and you want to be able to scale-up your team easily, you should totally go for it and reach out to an outstaffing company.
Don't waste your time and get a programmer or even build your first disrupted team with Talmaic!
George Fironov is the Founder and CEO of Talmatic, concierge-type service focused on helping tech companies to hire dedicated remote software engineers. I'm passionate about people, technology and innovation. I dedicated my career to building professional teams that empower our customers with the latest tech expertise they need to be successful.