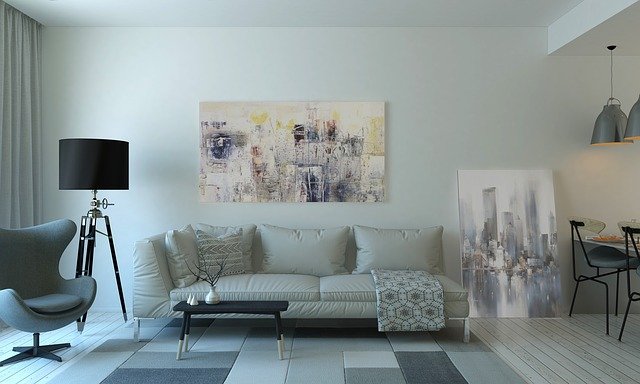 Suddenly hate the way a room in your home looks? After being locked inside for so long, we don't blame you. There are many in the same boat.
While you might be thinking about making those changes to your room you should know that giving that space a makeover doesn't have to be complicated or expensive, so there's no need to resort to the extreme.
With these tips, there's no need to hire an interior designer either, which can run anywhere from nearly $1,900 to over $11,000 on average, according to HomeGuide.
Add Throw Blankets and Pillows
Switching out your couches and other seating will significantly change the look of a room. However, this isn't something most people can do whenever they want, just to update a room.
The next best thing to new seating is new throw pillows and blankets to add to your furniture. It's easy to boost the color palette in your bedroom or living room by adding a cozy layer and texture with throw blankets and pillows.
It instantly updates the space and gives it more character by mix and matching solids, patterns, and fabrics.
Infuse Scent Into the Decor
Scents can significantly impact the mood of those in the room, and it's a cheap fix too.
Think fresh cut flowers, plants, candles, incense, and diffusers to change up the feel of the space. If you go with flowers, buy an inexpensive bouquet and split them up by color, placing each one into small vases throughout the room or your entire home. Of course, beautiful vases, candle jars, incense holders, etc., add to the look.
Hang Up Some Art
While having bare walls may be the point of an ultra-minimal design, for many of us, it makes for a dull room. Hang up a few small pieces in an interesting way or one large item that makes a big splash.
You can also mix and match different pieces to create your own gallery wall. You don't have to invest in pricey works of art – you might even have some great photos of your own that can be printed out and framed.
Rearrange the Furniture
Have you considered how the rooms in your house might look different just by moving around the furniture you already have? Rearranging the furniture instantly changes the look of a room.
Whenever you get bored, you can start moving things around. While some spaces only work with the furniture organized in one certain way, many can handle dramatically different arrangements.
You might even find that some rooms have a much better flow and more space with a different setup. Maybe it's the perfect time to try feng shui?
Update the Window Treatments
Freshening up a room can be as easy as updating the window treatments, and it's a lot of fun too, as the options are practically endless. It's also visually beneficial if you plan on putting up your home for sale in the long run.
There are many ways you can change your window treatments to get a different effect. If you want a different accent color to be featured in a room, getting curtains in that color can be a great addition.
Window treatments also affect the light that comes in, which can have a big impact on how a room looks, so consider changing that up. You could replace vertical blinds with roman blinds, or maybe try sheer curtains to allow more sunlight in.
Bringing in natural light will make the room look and feel more spacious too.
Dress Up the Dining Room
If your dining room is boring, dressing up the table is a great way to update it. You might change it with the seasons and holidays as it can be done at a fairly low cost.
Add a neutral runner that will work all year long and then switch up the accent items when the seasons change. For a sophisticated year-round look, go for a combination of lush greenery and rich red candlesticks.
Creating a gallery wall that complements your dining table can complete the look. Using all-white frames, perhaps with botanical-inspired prints, will add to the elegance while creating a cohesive setup.