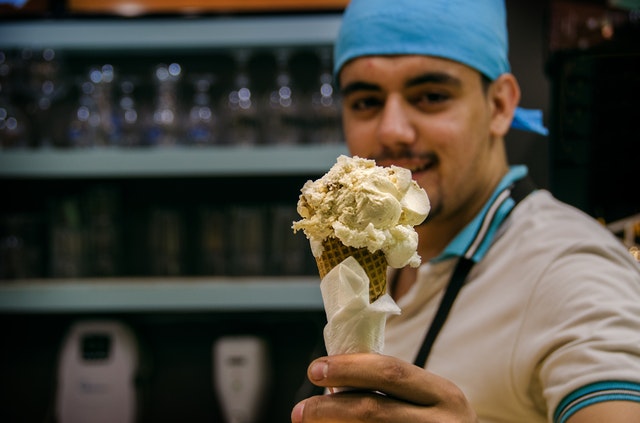 "What is the most important thing I can do to improve relationships with customers?" This question strikes the mind of every business owner.
Although the answer is obvious, entrepreneurs often fail to notice the solution: Improve customer  service.
As a business owner, you work hard to develop a quality product/service, take the time to train your staff, and attract new talent.
However, if your customer does not receive the service they desire, they are likely to go somewhere else.
Did you know that more than 78% of customers have bailed on a transaction or canceled their planned purchase because of poor customer service?
Additionally, customers who are dissatisfied with a product will discuss it with their friends and family members.
In fact, happy customers might tell nine friends about their experience while angry ones will "anti-refer" your company to an average of sixteen acquaintances.
The bottom line: Your customer is the backbone of your company. They are the one to make you or break you!
Thus, if you don't treat customers the way they want to, chances are you will not hear from them again.
Good customer service
Ritz-Carlton, a luxury chain of hotels, is known for its exceptional customer service. And they sure know how to live up to the expectations of every visitor.
Once, Chris Hurn, a young boy, forgot his favorite stuffed giraffe "Joshie" in their hotel room during his stay.
Chris's father upon realizing that "Joshie" was missing told his son that he was vacationing a few days extra while also requesting to the hotel to mail him back his son's toy.
To assure the safety of "Joshie," the team of Ritz-Carlton photographed him at various areas of the hotel such as lounging near the poolside, having a meal, and even helping in the hotel's loss prevention department.
The hotel then mailed back "Joshie" to Chris along with photos and information about his stay in the hotel.
The exceptional gesture made by Ritz-Carlton is just one example of excellent customer service.
Although, for many, "Joshie" was merely a stuffed toy which could easily be replaced with another one from the toy store.
However, for Chris, the toy was a prized possession and the way Ritz-Carlton treated the issue has indeed brought a smile on our faces.
A strong company like Ritz-Carlton is already providing customers with great service.
However, for those who are not yet aware of how to strengthen the bond with their customers, this article is for you.
To help you out, here are a few tips that will assist in improving your customer service with both – existing and new consumers.
Make the first impression count
"First impression is the last impression." We are all familiar with the old age aphorism.
The first time we encounter something, whether it's food, a place, or a person, we know how we will feel about it in the future.
In a business, however, your first impression can take many forms and is not solely dependent on physical contact.
For example, if a potential customer calls up your office, make sure you greet them warmly.
Additionally, it is essential that a live agent is accessible within two minutes at most.
According to a survey by Harris Interactive, 75% of consumers feel that it takes too long to reach a customer representative on the phone while 67% of frustrated consumers have hung up the phone because of unnecessary wait time.
Some other tips that will help you put your best foot forward include:
Dressing impeccably
Making strong eye contact
Taking notes about any problem the potential customer is facing
Being patient and answering all the questions of the prospect with assurance
If contacted via digital medium, make sure to reply ASAP
Listen to them
The customer is always right. Whether it's their criticism, suggestion, or appraisal – ensure that you acknowledge their feedback and act on it if needed.
One of the most excellent examples of listening and responding immediately to the customer's wishes is that of Morton's Steakhouse.
On a business trip, author and consultant Peter Shankman joked on his Twitter account that he wanted Morton's Steakhouse to meet him with a Porterhouse Steak at the Newark Airport when he landed.
Guess what! When he did land, a tuxedo-clad waiter was waiting at the airport with Morton's bag containing 20 ounces of steak, a sideline of shrimp and potatoes, a round of bread, two silverware and napkins.
Although Peter Shankman had undoubtedly joked regarding the meal, Morton's Steakhouse listened to the consumer's demands, seized the opportunity, and showed that they care about their loyal customer.
Of course, this doesn't mean you stay glued to your social media profiles for any emerging opportunity.
Today, several CRM tools are available such as Nimble and Salesmate that can help you gather customer's engagement on your social media profile.
Just update your customer's data on the system and allow it to manage your communications.
Respond quickly
Did you know that 45% of customers will abandon an online transaction if their queries are not responded to immediately?
Moreover, 33% of consumers will recommend a brand that provides a quick but ineffective response.
Zappos, an online shoe retailer, is known for its customer service and lightning fast-response to their queries.
Take the example of one customer who misplaced her favorite pair of Zappos shoes during travel.
Upon realizing the shoes were missing, she logged in to the company's website and searched for the same shoes.
Unfortunately, the company no longer stocked the specific model. However, the customer contacted Zappos and requested if they had another pair in stock somewhere.
The team at Zappos surveyed all the local malls of the area and was finally able to find them. The shoes were then delivered to the customer's doorstep with no extra charges.
Additionally, customers expect a response to their emails in maximum six hours.
Disappointingly, only 36% of retailers respond that quickly while companies that do manage to answer within an hour are more able to achieve customer's satisfaction and profits of both – online and offline medium.
Keep your employees engaged
To the customer, a front-line employee is the face of the brand. If the employee is unhelpful, rude, and uncaring, customers are likely to get negative vibes which can lead to loss of revenue and negative word of mouth.
Unfortunately, 51% of US workers are unhappy with their jobs while 36% of business owners also consider employee engagement as the number one challenge.
When employee morals are low, they lack productivity and don't bother to go 'above and beyond' to delight customers.
This results in loss of sales for the company as the prospective customer usually foregoes any intention of purchase.
Here are a few suggestions that will help you increase the morale of the employees and ensure that they do justice to the assigned work.
Give time off when required
Appreciate them
Get to know them personally
Offer rewards
Invest in their training
It is also important that business owners equip their employees with tools to make their work easy.
For example, CRM tools such as Nimble, Salesmate, and Pipedrive can make it convenient for the whole workforce to assess the buying habits of consumers.
Collaboration tools such as Trello and Slack are also useful in keeping the entire team on the same page.
Similar to break time in school, employees should also be given a fun hour during the work period.
For example, FatWallet, an online discounter that recently closed it's operations had a monthly game day for its employees.
The in-house completion contains several different games such as Trivial Pursuits and bowling.
The high-achievers also get rewards such as movie tickets, game passes, and even tickets to amusement parks.
Conclusion
Benjamin Franklin had always said "well done is better than well said".
As a reputable company, you should not just talk about the services you are offering but also show your customer that you are willing to meet (even exceed) their expectations.
By keeping your focus on the customer, your company can generate loyalty from customers along with good word-of-mouth and referrals.
CRM pipeline management tools are also helpful in analyzing the prospective customers and leads.
Always remember, the customer is the king, and they will definitely recognize the efforts you are making.
So go the extra mile, provide exceptional customer service, and create a lasting impression.
Erica Silva is a blogger who loves to discover and explore the world around her. She writes on everything from marketing to technology, science and brain health. She enjoys sharing her discoveries and experiences with readers and believes her blogs can make the world a better place. Find her on Twitter: @ericadsilva1