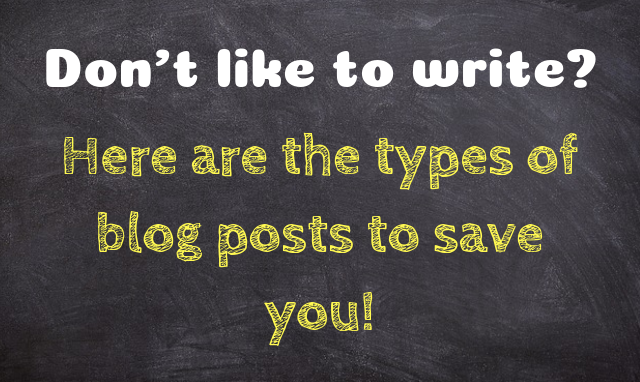 Falling sick of writing blog posts often, as regular as clock works? Are you feeling bored with writing, at times?
Writing will be fun if your brain is so enthusiastic in bringing up ideas. But, what if it betrays?
What if you don't like writing sometimes?
Perhaps, if you felt that you are less creative than ever before, what you can do? You can't keep your blog idle with no content.
You will have to feed the feast to your fellow readers — no matter, what.
Whether you are in the mood of writing or not, you'll have to.
So, here is the article about the different types of blog posts to create when you really felt tired of writing at times. Not all the time, anyways!
There are several ways you can publish even long-form content that drives good traffic though you don't write.
Also, it's a good practice to offer varieties to your readers instead creating the same type of blog posts all day.
You can't digest the same boring apple pie every day, isn't it?
Hence, I am sharing you here a few blog posts types that leverage others writing potential.
Types of Blog Posts to Create When You Don't Write Much
Writing will be overwhelming when you want to make sure the piece of writing is error-free. You must be a good proofreader too.
So, you must try these diverse things and take a break from writing when you need it.
What are the other form of blog posts you can create that gets viral other than your regular posts? Here you go.
Media-rich Posts
When you need an off from the traditional blogging style, then try posting some live videos. You might think creating videos takes more time and energy than writing.
But it's a big no-no.
You can see experts record on Facebook using their computer's built-in camera. No editing or no pre-requisites.
Take it on the go. If necessary, you can add the captions later.
It's a global fact that video content will compel your readers to run through than a plain text. So, why don't you try this?
Indeed, you can embed the video codes on your blog, and post it on social pages. Or anywhere you want to broadcast among your followers.
This must be a better alternative to your regular text-based articles.
It may be anything like: "How I used to keep blogging even during my holidays?"
Or "The simple secret to running a business with a baby in the equation."
In this video, Jane Sheeba talks about how she manages to blog even after her 2nd baby comes in life. It's motivational too!
Also, you can write a small content embedding more images to depict things well. Basically, step-by-step tutorials, how to's will do better.
Post titles can be like: "How to disable add-ons in Chrome browser?" or "Step-by-step guide to configuring Yoast WordPress plug-in," etc.
Expert Roundup Posts
The most interesting type of blog post that is capable of getting you more shares and traffic.
Also, you can build a good rapport among the experts or top influencers in the niche. You can pick a curious topic and request the thought leaders to share their insights about it.
Compiling altogether and publishing it on your blog will get you more authority.
Make sure you are inviting the experts in the same niche. The topic must be interesting to make it go viral among the readers.
It can be like: "23+ bloggers sharing Tips to boost career in digital marketing"
Also, you can compile the best Expert roundup posts in relevant niches conducted by other bloggers too. Like what Zac Johnson did so.

Infographics
To be successful, you must plan something that gives significant ROI.
Spending a whole week that gets you fewer backlinks or social shares, we call it as less productive.
But, the no-brainer solutions must be spending an hour on getting a hold of huge returns.
Creating infographics is such a good-yielding blog post type you must try.
It's a highly sharable piece of content that's being alive in multiple places.
There are plenty of drag-drop infographics builders available like Canva. It just needs some creative ideas, a few hand movements to put together.
Post titles can be anything like: "Past, Present and Future of Blogging" by Jeff Bullas. Or "40 brilliant & complex topics explained" by Canva.
Compiling Quotes
Gathering expert ideas sound interesting, right? Similarly, you can also try publishing a list of quotes on any topic.
You don't need to write. Just surf through the web and put all together.
The post title can be like: "XX Best time management quotes."
"xx blogging quotes to get inspired and motivated."
Here's one from Jane: 201 Motivational quotes for personal and business success.
Just spend some time to settle on an exciting topic in your niche.
Don't limit yourself, drawing only famous quotes over the web online. You can also refer to some e-books in your niche for more inspirational quotes.
Expert Interviews
Like the expert round posts, outreach to the experts in the industry and request for their interview.
Either you can pick a question and make multiple experts respond.
Otherwise, make a single expert spare some time to share their exciting experience, ups, and downs in their niche.
Posting it on your blog will help your readership to get motivational, and to be strategic.
Here is the interview with Jane Sheeba by Traffic Crow.
Giveaways or contests
Alternative ways you can engage your readers with less content would be conducting some contests or giveaways.
Get them to participate in your webinars, follow social posts, download your e-books or anything a kind of.
Announce a worthy gift for the lucky draw. By this way, you can make your readers bind with you benefitting both.
Make sure your offering must be worthwhile for the interests they showed on your contests.
It's like: "The messy desk contest" by Shoeboxed.
In regular content type blog posts, blog comments might be the only way your audience engages with your content.
For more interactions, running polls, surveys, and quizzes will do
better.
Be generous with them offering free giveaways to value their time and interest.
You can see experts like Neil Patel, Jitendra Vaswani, etc. set to display pop-ups with lucky draw contests to welcome you.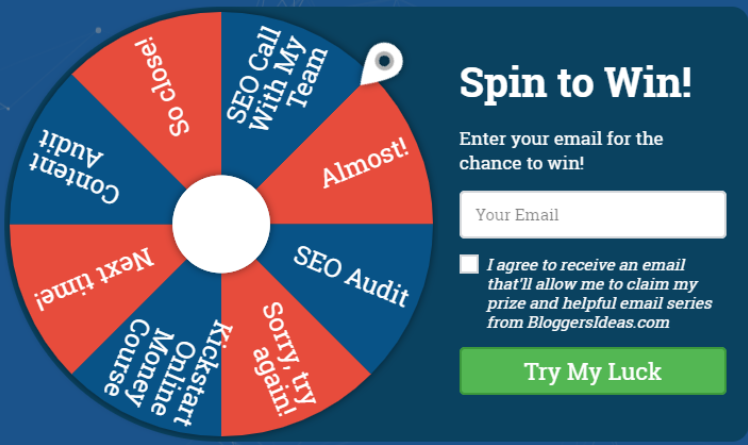 Likewise, you can create a blog post with such quiz contests, lucky draws, surveys, etc. to engage your readers with minimal content.
Guest Posts
Last, but not the least.
Guest blogging is the most effective SEO strategy that let others contribute valuable articles to your blogging space.
Make sure to publish the articles that match your blog style and reader's expertise level.
Both of you and the contributor can benefit from guest blogging. You get the most influencing content that your reader loves.
Also, the contributor will get a new readership for their way of writing.
Anyways, you will have your own set of guidelines to make sure the guest articles will be up to your expectations.
So, what's your choice of blog posts, now?
Hope you will find these types of blog posts useful when you hardly get time to write more.
When you are on vacation, but you want to get a hold of your blogging activities, then try publishing these easy blog posts.
You may also try some audio and podcasts instead of posting with regular content patterns.
Anything you do, employ something that your competitors haven't tried.
But, I insist not to publish these kinds of posts often. Work that leans on other's values is not a legitimate option for the long run.
So, use it occasionally. Otherwise, love to write of your own to keep your readers engaged.
This is Sathish Arumugam, a passionate Blogger, Trainer and a Digital Marketer. I am glad to share that I am the man behind Traffic Crow and SGS Mediasoft. Traffic Crow is a diligent blog that frequently comes with informative posts, interesting interview series and expert roundups to serve its readers best forever.