Do you ever look back at your old content?
As you think, the articles won't be effective all the time. Above 95 percent of the content drives most of its traffic in its very first two or three days. As days pass on, the performance degrades.
In some niches, the content would become old within a week or a month. In some industries, it tends to drive decent traffic for years.
However, the returns will be diminishing anyways.
That doesn't mean the content is impotent. While you may be busy and excited about creating amazing content more often, re-energize the old content without a lot of extra work.
So, what to do with your old blog posts?
Why should you update the old content instead of removing it? Here are the valid reasons you should repurpose your existing content.
Reasons you should be Updating the old content – It's Essential
#1 Google's Freshness Factor
Look at this illustration below by MOZ. It shows how your content becomes stale over time. No matter how good the content when it was published, it gets old. Indeed, it's inevitable too.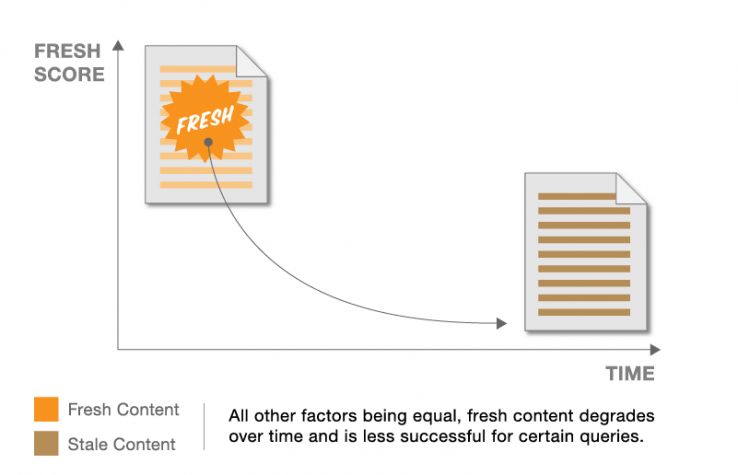 After all, Google considers "freshness" as one of the crucial factors to determine your website quality.
Sites that come up with fresh content more often are likely to easily fall into Google's search radar.
Make the necessary updates. Set it to today's date and click update to bring it out as a new post.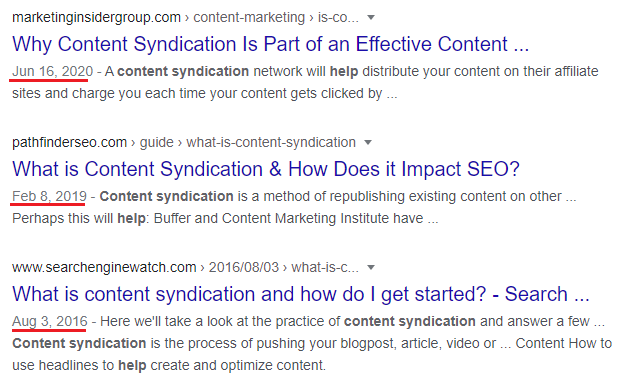 Reviving your old posts is also a golden opportunity similar to every new content you publish, but with minimal efforts. Demonstrate to search engines that your site is alive with more fresh content.
#2 Content isn't easy to follow
Like every other SEO strategies and common skills, content writing is also getting matured over the years.
You might have rushed out to publish your content without proofreading it properly. Poorly written content makes it untrustworthy.
Make sure to look back at your poorly-performing content hiring a professional editor or using proofreading tools. Improve your language to make your content easy to read and reliable.
You might have got better writers today. Influence their writing skills to re-energize your old content that was poorly written.
#3 It Doesn't drive any traffic at all
Check out your analytics report. You will be surprised to look at your hard works are sitting idle in the archives. You might have spent hours or even weeks to create that awesome content.
Make such a list of posts that generates very little or even no traffic in recent days.
I hope you don't require any other splendid reason to repurpose it than decent traffic it brings. Doing nothing with those old blog posts, winning the SERP results is troublesome. So, give it a new life to boost your website traffic on average.
#4 Click-through rates are in trouble
Head over to your Google Search Console and check the performance report of your blog posts or pages.
If the click-through rates are low than you think, then it's a clear indicator that you should revive certain pieces of content.
Most importantly, tweak your title and meta description. Craft your titles eye-catching but also with relevant keywords.
#5 Content has outdated data
Every second, the trend changes in this digital world. Consider you have content about creating WordPress content. It was published in 2016. And that performs well, encouraging the start-ups to come up with their stunning blog posts.
Do you think the same works now?
A big no! Now, WordPress disciples are playing around with its Gutenberg Editor. Your outdated content about its Classic Editor makes no sense. So, to feed your readers the latest and updated information, you should give a second life to your old posts.
#6 To add, remove or replace links
Sure, your content links to other resources. Check whether the destination source is full of life. Otherwise, while clicking on the link, it shows the "Err 404: The Page not found" message, then you should remove the specific link or replace it with any other valuable resources.
So, you can update your content to link to new external energetic resources. Also, you can add content to interlink your new pieces of content.
#7 To Embed Visuals
When the content was published for the first time, it was fully plain text. Maybe that time, it tract more attention. But, the reader's expectations change over the period.
The majority of online users spend time on watching videos. People are frustrated with written texts. You are in place to incorporate those appealing images and videos to enhance your content value.
You have no other choice other than updating your old content with exciting visuals. Don't add boring media content for the sake of updating. It must be trending, relevant, and engaging.
#8 To Give Your Content Rebirth
It's yet another opportunity to make it reach more people. Updating and republishing the existing content can even tract a new set of audiences who missed it the first time.
Promote it for better reach. Blast it to your email subscribers. Share it on your social profiles since your social media followers would be massive now compared to when the article was published before. So, you are giving a second life to your content. And, helping more people to discover it.
#9 Do more with fewer efforts
Over millions of fresh content comes alive every day. It's quite challenging to create a milestone content that renders significant ROI. Especially with the growing competitions, it's hard-hitting to make it stand out.
On the other hand, your older content was already successful for the first time. It takes fewer efforts to get another golden opportunity to prove its potential again.
Why don't you try transforming your existing content to today's era?
Updating Your Old Blog Post Content
You have hundreds of articles. Which posts should you optimize or update?
Get the list of all your pages from Google Analytics or Sitemap. Then, track various metrics like traffic, bounce rate, links, social shares, average sessions on a particular page, rankings, conversions, etc. Not to mention, these are the essential metrics that determine the success of a page.
So, let's start analyzing the pages that you have handy.
You can choose pages that have got –
Low traffic but good conversions or vice versa
Decent number of shares and natural backlinks
In this perspective, you can sort out a very few pages (for the beginning) to repurpose for significant results.
Periodically, you can run the checks, analyze, and fuel the content.
While updating your old content, make sure to revisit your keyword research, understand the search intent, and optimize it.
Make sure the on-page SEO is perfect, headlines are impressive, content is highly readable, and the data is up-to-date.
For an instant, Vox updating and republishing its 88 articles in five days gained 500,000 page views. So, updating old content works.
Indeed, it will work for you as well.
You should revamp your existing content with fresh and live things. With minimal efforts spruce up your content marketing returns exponentially. Bring out your buried pieces of content and let it be evergreen.
This is Sathish Arumugam, a passionate Blogger, Trainer and a Digital Marketer. I am glad to share that I am the man behind Traffic Crow and SGS Mediasoft. Traffic Crow is a diligent blog that frequently comes with informative posts, interesting interview series and expert roundups to serve its readers best forever.