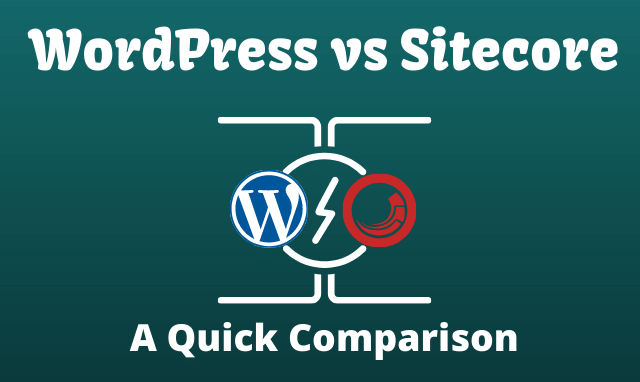 Both Sitecore and WordPress are very popular platforms but each one has its own benefits. Furthermore, it is very important that you are able to distinguish between all of the various types of CMS out there.
Since both of these CMS are usually on the shortlist of candidates to choose from, we decided to take a look at these two platforms to see which one would win in a head-to-head comparison.
Ease of Usage
The first thing we need to consider when comparing WordPress vs Sitecore is which one would be the easiest to use.
Even though WordPress came out more than a decade ago and has a wide market share, it is not the easiest CMS to use.
Sitecore offers more functionality and models its buttons and toolbars like familiar such as Microsoft Word to make easier for new users to quickly create or edit content.
They also provide users with some training to make sure that they know about all of the functionality and how to use them.
While WordPress has a lot of template themes, this can be a drawback as well because it will be difficult to create a website that is unique.
WordPress has a big market share and a lot of websites are using it, but this makes it difficult to stand out.
If your are looking to distinguish yourself from the competition, we recommend that you choose Sitecore to create your website.
Marketing Capabilities
First, let's talk about integration with other systems. With WordPress, this will be difficult because personalizing content is WordPress' strong suit.
In fact, you will have to hire developers to help you out with this. Sitecore on the other hand will be easy to integrate with your CRM and other systems. In fact, this is one of the areas where Sitecore really excels.
If we look at the functionality that these two platforms give your marketing team Sitecore has the clear advantage here as well because most of WordPress' functionality comes from plug-ins, whereas Sitecore has everything built-in.
This will allow you to display personalized content to all of your visitors and wide array of tools such as A/B testing, email marketing and many others.
When comparing the marketing capabilities, we have to remember that WordPress was created for blogging.
Later on it started incorporating some marketing tools through plug-ins but it would be much better to choose a platform that was designed for growing your business such as Sitecore.
Costs
As far as costs are concerned, WordPress is the winner because it is absolutely free. Sitecore requires you to buy a license. Still, you will incur costs with WordPress because you will need to budget for development time to add functionality.
Also, there is no customer support with WordPress. Therefore, if you feel comfortable with WordPress and you can hire outside support to help you out, then WordPress is a good choice for you.
In all fairness to Sitecore, you do get a lot of value for the licensing fees. You get all of the built in marketing functionalities and some customer support to assist you.
Scalability and Security
There is a final comparison that we would like to make between WordPress vs Sitecore is with scalability and security. As far as scalability is concerned, Sitecore is the clear winner because its architecture allows websites to deal with sudden spikes in traffic.
Also, if you are expanding your business into new markets, Sitecore will also be much more useful with localization efforts and you will be able to scale both vertically and horizontally.
If you would like to scale and you have a WordPress site you will most likely have to hire a PHP developers to help you out. Even though you can manage WordPress in-house, this only goes so far.
As your business expands so do your business needs and WordPress simply cannot keep up.
Security is a big issue especially with all of the news about hacking attacks on big companies such as Capital One, Facebook and others. It is important to note that WordPress is more of a safety risk because it so plug-in reliant.
If you would like WordPress to perform some function that does not come out-of-the-box, you will have to download a plug-in.
However, since WordPress has limited marketing capabilities, you will most likely have to download a lot of plug-ins to make you marketing effective. The more plug-ins you install, the more risk you take.
WordPress vs Sitecore: Which One to Choose?
Ultimately, the choice will depend on your business goals. If you are looking to expand and grow your business you will need a website that will provide you with such capabilities.
If this is the case then Sitecore is the option to go with. You should also choose Sitecore if you are not tech savvy and you are looking to get your website up and running quickly without enlisting outside assistance.
If you just need to create a website for your business without any customization, but you are looking to have traffic coming in, then WordPress will fit your needs.
Having said this, you will be able to deploy the website quickly but, as time goes on, you will grow your business and try to distinguish yourself from the crowd.
Therefore, eventually you will need some customization and it might be costly to have to hire someone to do this.
Take all of the information that we presented about WordPress vs Sitecore and compare it with your overall business goals.
Since each company has their own individual needs and goals, they will need to evaluate each CMS separately to get an understanding of whether or not it is a good fit for them.
Having said this, it is important to take all of the factors mentioned above into account. Be sure to know where you would like to be one year from now or even more before deciding on a platform.
Once you decide to invest in one, it will be difficult and costly to switch later on so choose wisely.
Ilya Dudkin is the Marketing and Sales Team Lead at Softwarium. He has more than 7 years experience in copywriting, SEO and lead generation activities