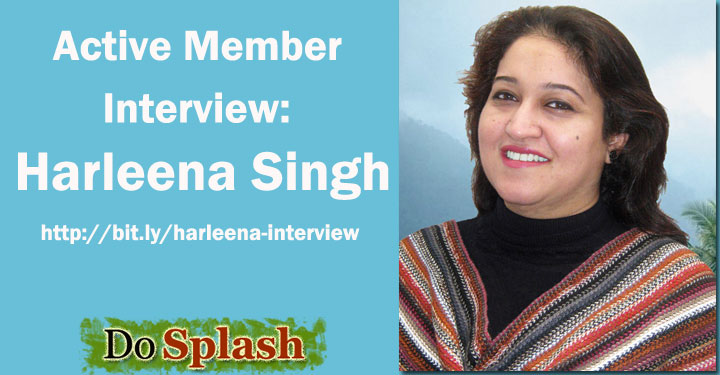 As part of member interviews, today we have Harleena Singh and she is someone who needs no introduction. She is so active all over the web and her face is pretty familiar to bloggers.
She is known for her thoughtful and insightful blog comments on various blog and she is a pretty good networker. I'll let her speak 🙂
Hey Harleena, you don't need any introduction. But for the sake of getting this interview started, please introduce yourself to the DoSplash community!
Sure, Jane. I'm Harleena Singh – a freelance writer and a blogger. I started blogging for my passion of writing and it has been a hobby of mine. You can say I was a hobby blogger, who got bitten by the professional bug to become a professional blogger. 🙂
Though I've yet to make a mark as a so called pro-blogger, I'm working on it by trying to make my living through the blog. I follow my own teachings that it's your balanced life and doing what you love that brings you happiness, and money may be not really be a significant part of it.
As I work from home, I manage both, work and home. I'm a mother, a wife, and a budding entrepreneur too.
So you are a freelance writer. What got you into writing?
I was teaching earlier, but quit my job because I wanted to give more time to my growing kids. Since I used to teach English, my father suggested starting writing as I had a flair for it.
I guess it runs in the family because my parents used to write, and my sister, who was already a freelance writer, guided me further. Therefore, I'd say a turn of events got me into freelance writing, which was never under the radar for me, and I can say the same for blogging too.
Tell us about the website(s) you run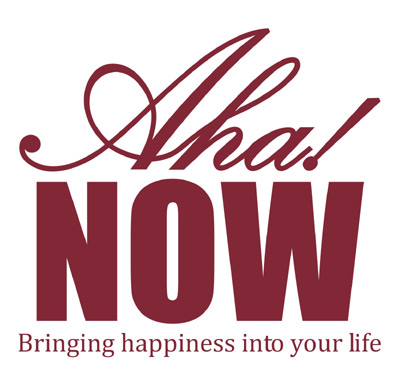 My main website is Aha!NOW – a self development blog. It caters to the personal, social, and professional development of an individual with an aim to bring happiness into life.
My professional website is FreelanceWriter.co and this is through which I get my freelance writing projects.
How do you make money online? What are your major income sources?
As I mentioned earlier, for most of my blogging journey I was a hobby blogger, a blogger with an aim to help people and bring about a positive change in the world we live in. So, I never really considered the money earning options other than the Google Adsense, which paid off for my hosting and other expenses.
My major income source remains my freelance writing projects.
You are known for your comments all over the web 🙂 Tell us what motivated to start leaving comments? Other than doing other kinds of promotion/marketing activities?
I love to visit and read blogs, and leave my comments. I never found blog commenting as a tough task. I had the belief that this is the best way for a non-technical as well as a novice blogger to build relationships with fellow bloggers, which is what really matters in the Blogosphere. As a result, I made lot of friends online, and most of them being bloggers, it got me busy with commenting all over the blogosphere.
Give us 3 tips to manage time while being a prolific networker/commenter like you 🙂
Honestly, I really have a hard time managing my freelance writing and blogging together, along with my task of home management. As you mentioned, it is essential to manage your time effectively and properly. Time management is the key factor I would say.
My tips would be to divide your day into different time slots and fill them up first with the essential tasks that you can't forgo. For me it was my duties of managing home, fixing a time for freelance writing, and my blog, which needed attention in different time slots.
Then divide the rest of the time for blog writing, blog commenting, and blog promotion purposes. Do take care to leave time slots for your personal and social time too, and then follow that timetable religiously.
It is obvious that sometimes you cannot do it all. So, you need to prioritize your tasks in the order of importance to you. It's good to focus on things that deliver, without ignoring other important aspects, like relationships.
Therefore, you need to have a balanced schedule and be ready to slog it out in the initial days of blogging. Reduce on your personal and social time too if needed, because once you're set in and gain recognition, you can afford to take out some time for your personal aspects.
Blogging is never an easy task if you want to fully go ahead with it, in order to create a mark and make money too. Sometimes, blogging is overwhelming, but if you've planned your day in advance, things get easier. I've some tips for time management on my blog that might help.
What are the 3 mistakes you made when you started out blogging, that you cannot forget even today?
My first mistake was to choose a domain name that had no keywords as I didn't even have any clue about my niche that time. My second mistake was not choosing a specific niche. My third mistake was to neither start on WordPress, nor build my list from day one.
Nevertheless, I wouldn't call them mistakes because when I started blogging, I didn't think that I would take it up as a profession one day. Had I known, I am sure I would have started in a much better way and kept all these things in mind after making a proper research.
Having said that, my domain name didn't have any negative impact on my blogging, and the more people got associated with me, the more Aha!NOW became a familiar and popular name for them.
Considering the SEO factor, I'm glad my domain name is not an exact-match that Google doesn't like. Later I read somewhere that you should not have a "hyphen" or "dash" symbol in your domain name, but then I didn't know this before.
I believe that if you do things with a good and pure heart, then whatever happens happens for your good. Now, since I started writing on multiple niches, my blog became a multi-niche blog, and surprisingly, that turned out to be in my favor. Moreover, because I introduced the niches gradually, after knowing what my readers liked, they accepted that lovingly and willingly.
Since I had no intentions to make money as a blogger, I did not care much about building a list. Nevertheless, it is a good way to get in touch and make a bond with your readers, and it's not always about money. However, now I get many subscribers daily, who'd like to be notified when I post new content. So, I am happy because the list is slowly but surely, is building up.
Later I realized that when you become a full-fledged and full-time blogger, you need to earn from what you're doing, that is from your blog. So, one should always keep the monetization option open for the blog but not blog only for money. This is one area I would be working on, though at my own pace.
Since you're interested in networking, how do you find blogging communities play a role in your online marketing strategy?
Blogging communities are important and very useful. They help to promote your blog and posts to a large audience and increase your reach and engagement in that process. You not only get traffic back to your blog but you also develop relationships with other bloggers, which can result in repeat visitors and mutually helping each other and creating profitable associations.
I am a member of many blogging communities for the three years of my blogging career, and for me that's the third element of blog promotion, besides blog commenting and social media promotion.
How did you hear about DoSplash? And what are your views on DoSplash?
I heard about DoSplash from you, Jane! You had mentioned that you were going to start it but I had my hands full of other blogging tasks that time, so it took me time joining in. But later when I joined DoSplash, I realized it's something that a blogger should never miss. DoSplash is different and special in its own way . I like the little interactions that goes along, and how we can build better blogging association with each other.
I know you keep working on DoSplash to make it better, and it is certainly becoming better by the day. Not to mention, that it's very easy to put up posts on DoSplash as compared to a few other communities, so that is an additional benefit too. I wish you and everyone on DoSplash – all the very best, because I know it's going to keep growing. 🙂
Share your top 5 blogging tips/secrets/strategies with the DoSplash community!
My blogging tips are very simple and they are no secret at all. Probably many bloggers know about them but do not involve them in their blogging strategy.
a) My first blogging tip is to have a blogging strategy or a plan. Have a blogging aim or destination where you want to reach, know your niche and its influencers, and plan the posts that you want to write by making a blogging calendar.
b) Always be strong on blog promotion and relationship building. Promotion without creating relationships is not as effective as creating relationships and then promoting your blog. As a blogger, you can first sell yourself (not literally!) and then your blog.
c) Choose a premium theme if you're serious about blogging, and have your own domain name. It's better if you choose a self-hosted blogging platform than a free platform. Try to use as many free tools and plugin in the beginning, but it's worth to spend on CommentLuv, which will help you bring traffic to your blog – at least in the initial years.
d) Pledge on creating good and interesting content always, which will help people. I'd recently written on how you can improve your writing skills, which might help. Your content alone has the capability to take you to great heights. Always create your personal presence on your blog and have it on your "About" page too.
e) Don't ever undermine SEO. Always research keywords and use them wisely in your blog posts. Besides, you should learn about content marketing in various formats like YouTube videos, podcast, Scribd, SlideShare, etc (though I need to start with a few of these myself as yet!). Get as diverse as you can in distributing your content.
You can go on and on about the blogging tips but these are some of them that really helped me reach where I'm today in the blogosphere.
Thank you for this opportunity Jane, to share the facts of my blogging journey and interact with your blog community.
Thank you so much for your time and wonderful answers Harleena 🙂