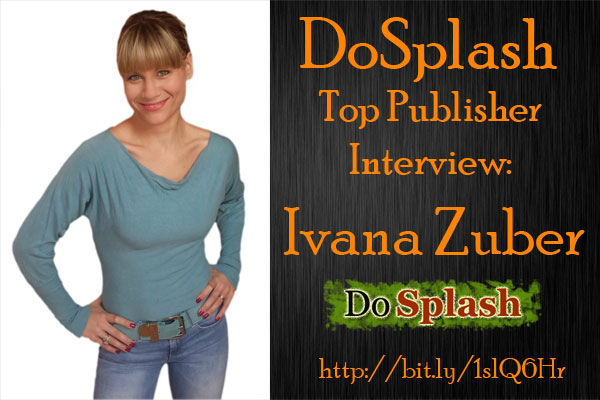 This week in the member interview, we have Ivana Zuber! She is one of the earliest and one of the most active members of the DoSplash community and she continues to stay up in the "Top Published" list 🙂
She is not a long-time friend of mine but I got to know about her when she became (one of the earliest) members of DoSplash. She is a very friendly person. And as far as I know she is quite talented :).
So I will let her speak now 🙂
Hi Ivana, please introduce yourselves to the DoSplash community!
I'm Ivana Zuber, a software developer, blogger and a passionate social media strategist. I work full-time as an ERP systems programmer, I'm finishing my master's study on software engineering, and in my spare time I write about topics that interest me the most and take on small marketing and web development projects.
I ventured into the online marketing world 4 years ago when I joined Flippa and started developing and selling affiliate-based websites. 2 years ago when I enrolled in the University of Liverpool Master's program I was asked to be a contributor to their blog. When I realized my posts were well accepted by readers I decided to start my own blog and launched bloggless.com in 2013.
What are your interests/passion pertaining to your online business?
When I first started my blog, my goal was to share knowledge on software development, career and education with the world and grow in the process, but as my blog gained popularity my ambitions changed ☺. Now I'm more focused on social media marketing and blogging topics, and on providing marketing services.
Tell us about the website(s) you are running?
BloggLess is my main website where I write about software development, marketing and career/education. With many years of experience, and a lot left to learn, I believe I can provide useful content from which many people can benefit.
I am currently also working on the development of two additional websites: one is my personal portfolio website which you can check out here: http://ivanazuber.com and the other is a business website for a business I hope to start in the following months.
Bloggless is a multi-category website, right? What is your experience in running a multi-category website (do you find it challenging to find targeted audience)?
As far as I know, there are not too many developers/marketers/bloggers out there, and for good reason. Becoming an expert in three different fields is virtually impossible, something I found out the hard way. Nonetheless, due to my passion for all these different areas of the internet world I decided to base my work around all of them. It was challenging at first, but I decided it was easier to run a single blog with multiple topics then to develop three or more separate sites.
Also, I believe these topics are highly related and that my readers would benefit from all of them. Software developers, or better to say software vendors need to learn about online marketing, and blogging. Likewise, marketers and bloggers need to have a basic understanding of the tools they use in their everyday work (basics of HTML and CSS, WordPress, plugins, web apps). When you add career development and education into that equation, you get a unique set of resources necessary to succeed in today's internet world. At least that is what I try to provide.
What are your major traffic building strategies?
Social media and blogging communities. Every time I click the Publish button on my post I go straight to my social sharing buttons and add the post to Buffer. I have my personal Facebook profile, Facebook page, Twitter, Linked In personal, Linked In business and Google+ page accounts connected with Buffer. I then share the post on Twitter, Facebook, Pinterest, LinkedIn, and StumbleUpon.
The next step is to share the post on ScoopIt, DoSplash, Inbound and BizSugar, add the post to Viral Content Buzz and JustRetweet, and promote the pin on Viralwoot. I also set up several missions on Empire Avenue, one for the tweet, one for the Facebook post, and maybe one for the post itself. This simple process drives a substantial amount of traffic to my blog and in my opinion helps rank the post in Google.
I am also a member of several Facebook engagement groups and Google+ communities. I share other people's posts on all my social media accounts and post my own updates to be shared by others.
How you got into coding? What kind of codes are your specialities?
I have been working in the software development industry for over 7 years now, either as a customer support specialist, programmer or project manager. I developed a passion for programming a long time ago and decided to make a living out of it.
Currently I am coding in C#, XAML and SQL for work, and HTML, CSS and Javascript for pleasure :).
What are your major sources of income?
My main source of income is my job. Other sources include various projects I take on in my spare time (developing websites for clients or conducting social media marketing campaigns).
What are your views about blogging communities?
Blogging communities are a great place to build relationships, engage with influencers, promote your posts and market your brand. I found them to be a massive source of traffic for my blog and a valuable source of inspiration for my posts. Whenever I run out of ideas for a blog post I go to DoSplash, Inbound or BizSugar, check out some of the trending posts and always come up with something useful I can write about.
Please give 5 top blogging tips for the DoSplash community!
Use a clean and appealing website design
Join blogging communities and engage with other bloggers
Pay attention to social media and harness its power
Respect Google but never base your traffic building strategy solely on it
Be yourself, be original