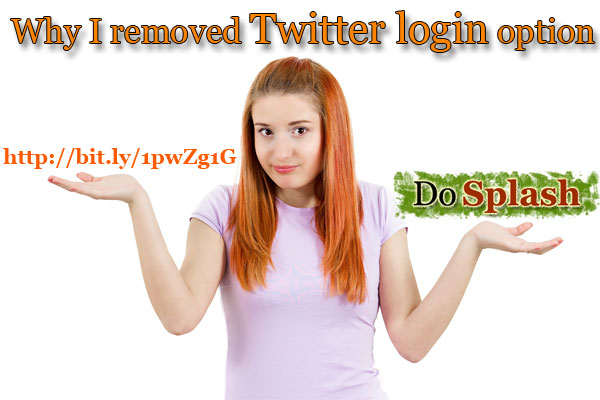 Well, this is something I am doing to maintain the quality of the site. As you might know, running a Pligg based site is really a challenge :). With WordPress you have so many options to combat spam. You know, you have a plugin for almost any purpose with WordPress. But the same is not the case with Pligg.
Anybody running a Pligg based site will know this fact. The backend administration stuff is not so friendly like WordPress. Or may be its because most of us are SO used to WordPress :).
Nevertheless, spam is something that is unavoidable if you are doing something online. Our inbox gets loads of spam everyday. And if you are running a website, you will clearly know that there's comment spam, user registration spam, trackback spam, and all sorts of spam!
Initially when DoSplash went alive, we allowed user registration and then we sank into user registration spam. We had all kinds of people and bots registering accounts at DoSplash and started submitting crap.
Even more, it became harder everyday for us to identify genuine user accounts among the sea of spam accounts, even if we wanted to clean up the spam.
So we decided to disable user registration and went the manual registration route. In this method we put up a register page where the user has to provide some details like their name, their preferred username, their blog url etc. Every time a user fills out the registration form and clicks on "Send" I get that information in my inbox.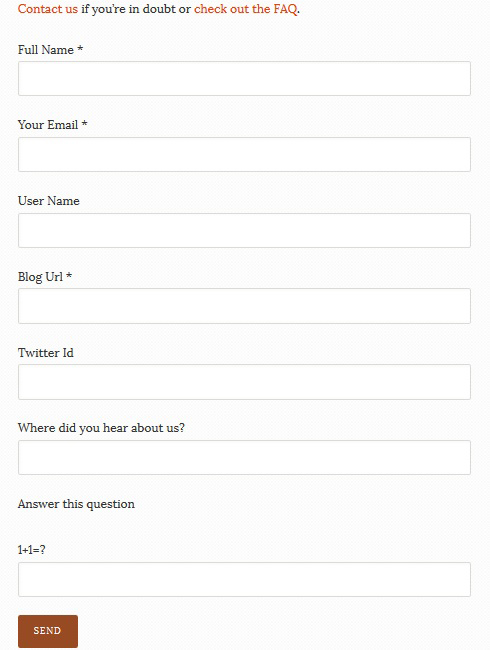 I then personally visit those websites and then approve the account!
Once I approve the account I let my manager know and he will create the account for the user and he/she will get an email notification.
To be honest I don't approve 95% of the requests on new account creation.
What factors do we analyse in order to approve an account?
I usually take a good look at the site. First, the content – I skim 5 – 10 blog posts to see if the content is of high quality and useful to the readers. I also check the site's layout. If there are more ads than content, I don't approve the account.
And there are certain types of sites that we usually don't encourage at DoSplash. You can see a short list of those sites in the register page itself.

And I also reject very new sites; I get user account requisition for sites that have only 3 blog posts (trust me, I'm not exaggerating here). Also "me too" tech sites without useful content.
Fine, let's get back to the topic of this post.
The Twitter login module
Even though we got pretty strict with user accounts by making registration manual, I had a guilt in the corner of my mind that I was being too hard on genuine users. Since manual registration requires that I review the sites, it usually takes about 24-48 hours to get the accounts created.
So I thought of an easy fix to this. I added an option to login via Twitter – for those who didn't want to wait 24-48 hours to get an account at DoSplash.

And I thought if people had Twitter accounts, then they are probably people and not bots or spammers. But I was SO wrong.
So I did remove the Twitter login option …..
Sad, I know. But there seems to be no point in having manual registration and allowing users to login via Twitter. There are spam users who have Twitter accounts. And when people login via their Twitter account, even if they are not spammers, I have NO control over what content they submit on the site.
And so it went on and we had too much garbage to clean up. Those who logged in via their Twitter accounts (not all of them) submitted low quality and spammy posts. And so, the quality of the site started to wade off.
I won't tolerate that any time, so we had to work overtime to clean up the site, moderate the submissions and to keep the quality of the site high.
And there's one more problem with this – users who login via their Twitter accounts usually don't enter an email address in their profile information (they either forget to fill out the profile or they don't care, which is totally understandable).
But, when those users forget their passwords (and it happens ALWAYS), they click on the "Forget password" option to reset the pass. In that case, since there's no email in their account, they won't get the password reset email!
And then they contact us for help. Of course we are happy to help 🙂 But this is annoying from the point of view of the user. Since this started to happen quite a lot recently, I had to take action.
So you probably got my point by now!
I understand that disabling the Twitter login option could make it a bit harder for new users to get their accounts. But I want to keep the quality of the site high and I won't compromise on that.
If you cooperate with me in tolerating this little bit of delay with getting new accounts I can promise you a good quality community 🙂 Its a win-win!