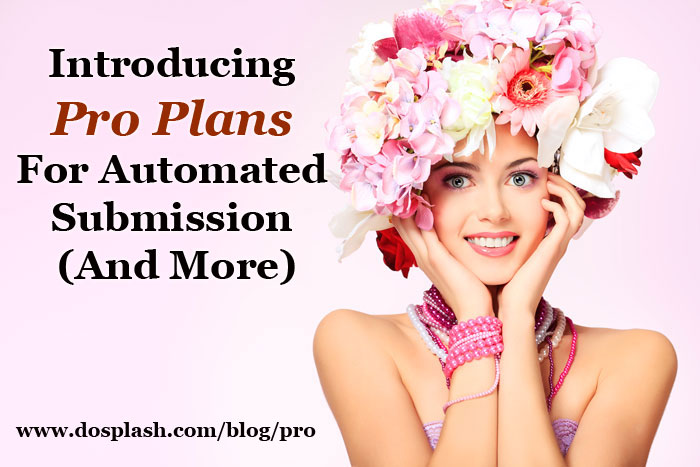 I'm happy to announce the launch of Pro Plans at DoSplash.
This has been one of the most requested feature since I launched the community. Since we were working on some of the backend aspects of the site to improve funtionality and performance, I was postponing the launch of Pro Plans until this New Year.
Now that we have successfully done some backend improvements on the site (which took longer than anticipated since it was holiday time and I was sick during the period), I am happy to announce the Pro Plans.
The pro feature will help you to automate the submission process to DoSplash via your blog's RSS feeds. You can view the plans and pricing at this page, but for your convenience, I present you the plans below:
Feature
Number of Feeds
Automated Submission
Tweeted out from @dosplash & @janesheeba
Google +1 & share from +DoSplash
Facebook Like and Share from DoSplash & Janesheeba
Vote
Consideration for featured post of the week
Silver
1 Feed
Gold
Upto 2 Feeds

@DoSplash Only

+DoSplash Only


DoSplash Only

1 Vote
*Most Popular*
Plantinum
Upto 3 Feeds

2 Votes
As I said earlier, I had many people asking me for this automated submission feature so I can imagine how busy we all are – and I can totally relate to it 🙂
However, I would like to explain certain things regarding the pro feature!
What the pro plans include
All pro plans will have the automated submission feature – that's the main goal of the pro plans, of course. If you don't have the pro feature you will have to remember to submit your post to DoSplash every time you publish a post.
By setting up automated submission, you need not worry about submitting to DoSplash – that's one item less on your blog post promotion checklist.
Moreover you need not worry about forgetting to submit your posts; you know even if you have a checklist sometimes you tend to forget to take care of an item. This has happened to me many times!
The plans differ in the number of feeds you can use to automate the submission.
We have carefully worked out to offer the pricing and number of feeds per plan accordingly so you can afford the price and can choose a plan that fits you.
Apart from this depending upon the plan you choose you can avail certain other features like social promotion of your post, default votes, consideration in the featured post of the week and so on.
I am also planning a few other perks for the pro users.
What the pro plans are NOT about
At the same time, purchasing a pro plan does not guarantee you a few other things. Let me explain them clearly here:
1. Community benefits
You will reap the full benefits of community like meeting new people, gaining exposure, getting votes, getting quality traffic to your site, etc. only if you engage yourself in the community.
If you rely totally on the automated submission and never visit the community, engage with the others, vote for the others etc. you will not get back from the community.
This is just like social media. The more you engage the more attention you can grab; and you can engage with real people too. Automated submission is just for your convenience, but that will never replace "community effects".
2. Getting published
DoSplash is a community based site. People vote on submissions and posts are published based on the votes by real people. There is (and will be) nothing that can change this basic structure of the site's function.
So if your post gets enough votes (as of now, 7 votes) your post will appear in the "Published" stream.
Of course, as a courtesy measure, we provide one or two default votes for certain pro plans. However, having a pro a account doesn't guarantee that all of your posts will get published.
Getting published is totally in the hands of the community.
Questions/Comments/Suggestions
I hope you will enjoy the pro plans. If you have any questions or would like to give suggestions, I'm all ears! Just fill out the contact form.
In general, if you have any questions about site's usage (not related to Pro), you can also use the same contact form to send me bug reports and/or questions.
I have also set up an FAQ page that deals with the most commonly asked questions. Check out that page first to know if your question is already answered.
Finally, thanks for all your support – I feel totally honored and in fact flattered!